All professionals at Francesca Velasco maintain the highest levels of accreditation and pursue ongoing education to stay abreast of the latest trends in the dental field. Read on to learn more about our staff's experience and training.



Our Doctors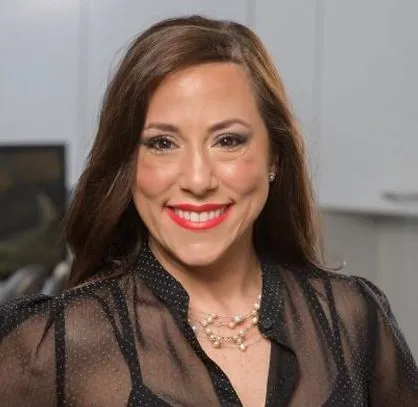 Dr. Francesca Velasco
Dentist, Owner
Professionally
Dr. Francesca Velasco graduated from Dental School at the University Santa Maria in Caracas, Venezuela in 2002. She also completed a General Dentistry Residency at Louisiana State University (LSU) Health Science Center "Charity Hospital," specializing in treating medically compromised patients; such as those suffering with Cancer and chronic diseases; also patients undergoing Chemotherapy, Radiation, Dialysis and Organ Transplants. During her residency she acquired advanced training with patients with motor and cognitive syndromes. She finished her program as the Chief Resident for the General Dentistry Department at Charity Hospital New Orleans, LSU Health Science Center.
Education
Dr. Francesca Velasco graduated from Dental School at the University Santa Maria in Caracas, Venezuela in 2002. She also completed a General Dentistry Residency at Louisiana State University (LSU) Health Science Center "Charity Hospital," specializing in treating medically compromised patients; such as those suffering with Cancer and chronic diseases; also patients undergoing Chemotherapy, Radiation, Dialysis and Organ Transplants. During her residency she acquired advanced training with patients with motor and cognitive syndromes. She finished her program as the Chief Resident for the General Dentistry Department at Charity Hospital New Orleans, LSU Health Science Center.
Hurricane Katrina
Dr. Velasco played an instrumental role in the recovery of the havoc of Katrina. She played a pivotal part in the rebuilding of the city fulfilling her leadership role within Charity Hospital Dental Division.
Personally
It's not a secret that Dr. Velasco has a deep love and appreciation for New Orleans. When it came time to start her own practice it was an obvious choice that she would name it after the great city she fell in love with. Aside from Dr. Velasco's passion for her work she also has an equally enormous passion for history. Dr. Velasco attributes this love for historical knowledge as something that she "inherited" from her mother. Fun fact to know is that both Dr. Velasco and her mother are Licensed New Orleans Tour Guides! As part of her appreciation for history, Dr. Velasco enjoys traveling and has been fortunate to be able to travel the world. She has visited all but one Ancient/ New Wonder of the World. Most of her travels are centered around things that she could appreciate in both aspects of structural and historical.More recently Dr. Velasco's newest experience is being a mother to her wonderful daughter Chiara. She refers to her as her favorite wonder of HER world! Dr. Velasco hopes that Chiara follows in her footsteps in dentistry to provide excellence to the community as she has made it her life work. Until Chiara decides her future path, the office will be her "mandatory"summer camp until she gets into dental school. Outside of work and travels Dr. Velasco is a huge animal lover. Dr. Velasco pre pre-baby years were spent volunteering at animal shelters. She believes in rehabilitating animals that have been abused or abandoned and giving him a good home. In fact, she herself has 3 big dogs which 2 are rescues themselves.
Professional Associations
Dr. Velasco is a member of the American Dental Association, Louisiana Dental Association and the New Orleans Dental Association. Dr. Velasco is an Invisalign Certified Provider. She is a member of the International Association for Orthodontics, the Academy of Cosmetic Orthodontics and El Colegio de Odontólogos de Venezuela. Dr. Velasco volunteers her time to contribute to her profession and serves as the second Vice President for the New Orleans Dental Association and is the Registration Chair for the New Orleans Dental Conference & Louisiana Dental Association Annual Session. Dr. Velasco was inducted as a Fellow in the International College of Dentists in 2018, and most recently as a Fellow in the American College of Dentists in 2020. Both organizations are honor societies recognizing the United States and the world's leading dentists. She is also a part of the HISPANIC DENTAL ASSOCIATION
---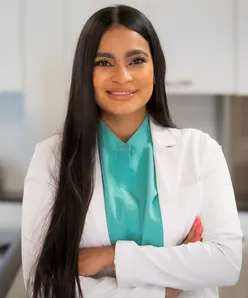 Dr. Delmy Urbina
Associate Dentist
Education
Dr. Delmy Urbina graduated with Honors from the University of New Orleans where she earned a Bachelor of Science. At the university of New Orleans Dr. Urbina did 2 years of extensive published research on early stages on animal development and gene expression. Dr Urbina attended and graduated with honors from Louisiana State University School of Dentistry in 2022.
Personally
Dr. Urbina is originally from San Pedro Sula, Honduras. She moved to New Orleans in 2006 and attended high school at Grace King in Metairie and fell in love with the city of New Orleans.
Dr. Urbina speaks English, Spanish and French. She is a member and volunteers at the New Orleans Spanish apostolate with Father Sergio Serrano and she also volunteers and works closely with Golden Change, a program to empower ethnically diverse communities in New Orleans with Mariana Montero.
Dr. Urbina loves to volunteer her time in the Louisiana mission of Mercy, a dental health team that provides free dental care for the underserved. She says she feels so blessed with all the opportunities bestowed upon her, that giving back to her community is a must.
Professionally
During Dental school Dr Urbina continue with her research endeavors in microbiology and worked with Cariogenic potential of streptococcus mutants isolated from children with severe Caries, which again was published.
Dr. Urbina values the importance of preventative care in Dentistry which is why she is up to date with the newest research to better help her patients. Dr. Urbina was awarded the Serpas scholarship in 2018 for outstanding academics.
Professional Associations
New Orleans Dental Association
American Dental Association
Louisiana Dental Association
---
Dr. Laura Smith
Periodontist/Implantologist - Associate
Education
Dr. Laura Smith is a graduate of Universidad Latina de Costa Rica where she received her Doctorate of Dental Surgery (D.D.S.) in 2009. In 2013, she was accepted into a 1-year fellowship at Louisiana State University where she received training restoring single and multiple dental implants with the newest techniques. In 2014, she accepted a position in Louisiana State University's Post-Graduate Periodontal program, which she completed in 2017.
Professional
After obtaining her D.D.S., she practiced general dentistry for 3 years in private practice in San Jose, Costa Rica. Since completing her 4-year postgraduate education, she has been serving the community of south Louisiana as a periodontal dental specialist. Besides receiving training in periodontal disease and conditions, she also trained extensively in all aspects of implants, including aesthetic implant surgery, bone grafting, sinus elevation, microsurgery, aesthetic gum grafting, and full mouth implant rehabilitation. Dr. Smith is a compassionate and highly-skilled specialist who treats each patient as if he or she were a member of her own family.
Personal
Dr. Smith lives in New Orleans with her husband and her three wonderful children. She enjoys spending time with her family, cooking, biking around the city, and exploring new places and restaurants.
Dr. Smith's professional associations and licenses
Active member American Academy of Periodontics
Board Certified Periodontal and Dental Specialist
Certified IV sedation provider
Certified Non-IV oral sedation
Nitrous oxide provider
Certified ACLS AND CPR
---
Our Team Members

Ashley
Hygienist
Ashley is our Registered Dental Hygienist (RDH) that recently joined our team of providers. Graduated May of 2021 from Wallace State Community College in Alabama; Ashley has had a passion for dentistry since she was a little girl. Her experience came from a family member who was fulfilling her clinicals for Dental School. Ashley was given the opportunity to develop x-rays and translate for her Hispanic patients which peaked her interest.

Ashley (who is not from Hispanic roots) is super fluent in Spanish, this is in part to her upbringing. Raised by a Guatemalan family her entire life, Ashley felt a deep connection to the culture so keeping the language was very important to her value. Aside from her ability to learn a second language, Ashley is also a Veteran that served in the United States Navy as an air traffic controller for 5 years. Her passion and discipline are what pushes her to be her best daily.

As fate would have it, we are lucky to have found someone who shares the same passion as we do here at New Orleans Smiles. Ashley's strong beliefs are aiding the Hispanic community through any language barriers and helping them feel comfortable in achieving their oral hygiene goals. Since her arrival, patients have praised her on the way she is able to make them feel welcomed and achieve a maximum level of professionalism. You would think that a person with this level of capability would continually push herself however balance is equally important for Ashely as her favorite pastime is to garden. This activity refocuses her and allows her to give her best when she's with us providing patient care.
---
Carolina
Clinical Lead
Carolina is a native of Cali, Colombia. As a good "caleña", she loves to dance, especially Salsa. Carolina is passionate about extreme sports and have practiced scuba diving and sky diving since she was a little child. Upon her completion from high school, she chose to study Dentistry and discovered a great passion in helping created smiles. After completing Dental school Carolina started helping her family with their dental needs and soon after she opened her own dental office to help her community.
Carolina came to New Orleans 8 years ago to be with her mother. She loves the city of New Orleans and have often described it as "beautiful". She is truly in awe of the local's culture, food, and traditions. Carolina met her husband (a military man) here in the city and has been married for over 3 years. She is also a mother to two wonderful boys that fill her with happiness. Her weekends are occupied with different activities to build memorial bonding moments. Carolina has often described her husband as the love of her life and her kids are her blessing. Her support system (and motivators) is her family! They want her to continue her dreams of being a practicing dental provider here in the States.
At the beginning of 2022 Carolina joined our team as a Clinical Assistant. She has worked with Dr. Velasco and our other providers to reacquaint herself in Dentistry. Carolina feels like Dr. Velasco has inspired her to explore other branches of Dentistry to grow as a professional. We truly cannot be happier to have such a beautiful person (inside and out) as part of our team. We are beyond ecstatic to have someone of her caliber continually to learn and grow with us.
---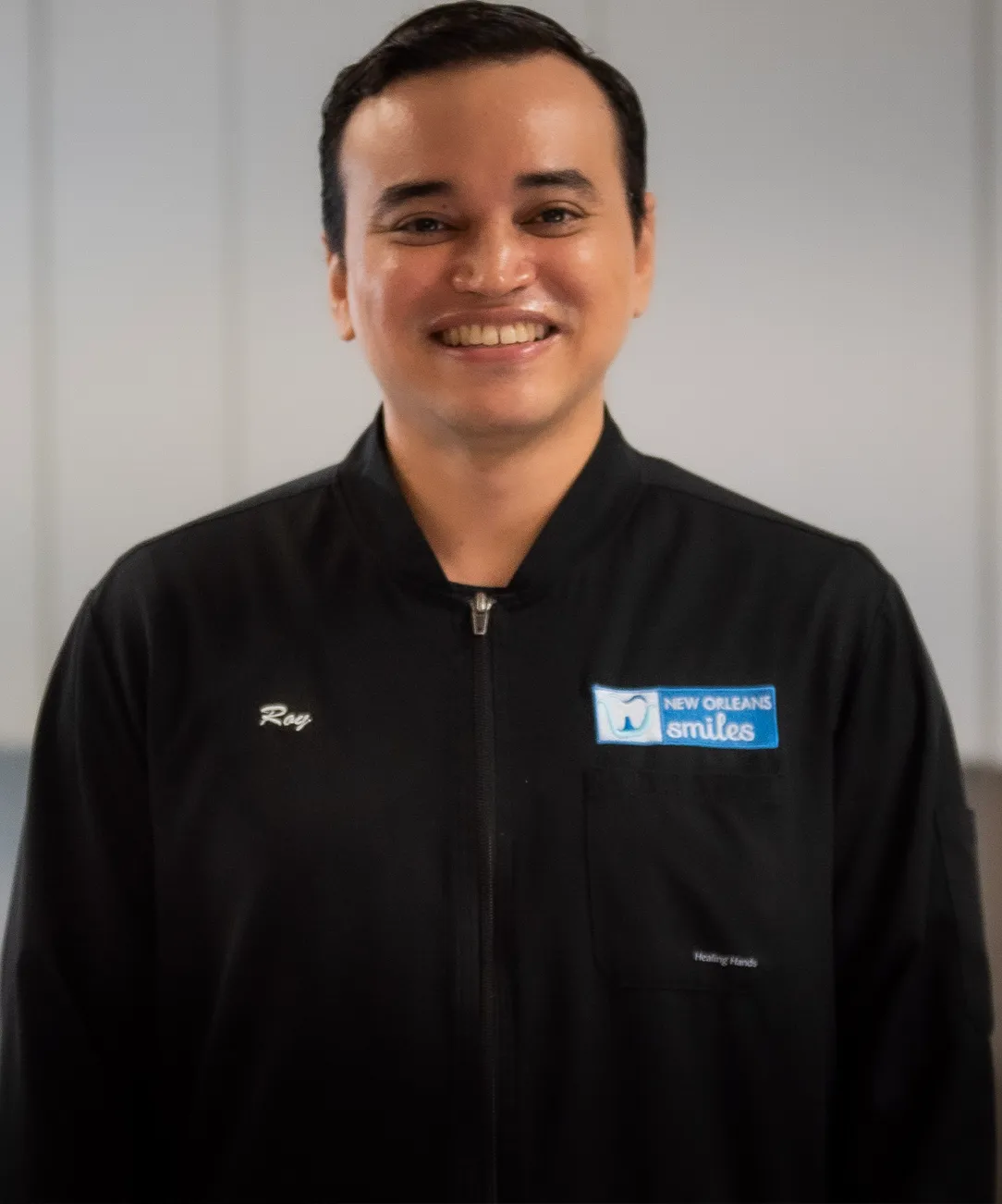 Roy
Treatment Coordinator
Roy is another one of our foreign trained dentists here at New Orleans Smiles. Originally from San Pedro Sula, in Honduras; Roy received his education at the Universidad Nacional Autónoma (Honduras) and Universidad Popular Autónoma del Estado de Puebla (Mexico). Being the eldest of two children; Roy wanted to pursue his goal of being a practicing dentist in the United States. How he ended up in New Orleans is still a mystery since he first settled in Florida. Whatever the case may be; Roy moved to the city (New Orleans) in June of 2021. He references this date as "the first year I experienced a hurricane" (Ida). Judging by how he still resides here means that a little storm can't keep him away.
In April of 2022, Roy joined our practice as a part-time assistant since he was enrolled at LSU Dental School specializing in Dental Lab Technology. After the first couple of weeks of his employment, we knew that he would be better suited in a position where he could help educate our patients as well as exercising his extensive knowledge in dentistry. He currently holds the position as our Treatment Coordinator providing treatment plans for Orthodontics, General Dental, and Periodontal procedures.
With his goals set in motion and work keeping him busy, finding a balance is essential for his sanity. Some extracurricular activities that Roy enjoys are sports (soccer and football), movies and reading. There is no preference to his reading as it could range from a good romantic novel to reviews on dental technology journals. We always knew that he would be a great fit based on his determination and passion for Dentistry.
---

Annalalia (Lala)
Patient Care Coordinator
Our resident beautician joined the wonderful world of dentistry in May of 2022. Graduating from Aveda Cosmetology College in 2019, Lala's future goal is to be a business owner. Her purpose for working in our office originally was to learn all things administrative and to understand the ins and outs of a day-to-day operation. After working her first 3 months, Lala's curiosity for dental flourished. Now she serves as our Patient Care Coordinator.
Part of Lala's responsibilities is to ensure that all patients' needs are met. She is the person you will most likely speak with when you schedule a new patient consultation or cleaning. Being bilingual helps Lala ensure that there is no miscommunication along the way. Lala would even admit to being more comfortable speaking in Spanish than English which is perfect as she has the ability to not only speak but to assist her team to translate when needed.
Born in Louisiana, raised in Mississippi and moved back to Louisiana; It's safe to say that you cannot keep this girl away from our great city of New Orleans. Currently Lala resides in Metairie with her fiancé and their two dogs (Mocha and Dino). Her pastime enjoyment consists of drawing, shopping, and cooking. Spending quality time with her family is something she sets time for as she is always hard at work.
---

Carmen (Ms. Carmen)
Clinical Assistant
Ms. Carmen is a native of the Capital City of Honduras, Tegucigalpa. Prior to moving to the United States, Ms. Carmen was a practicing Dentist in her hometown. She completed her studies of General Dentistry at the Universidad Nacional Automoma de Honduras and opened her own dental practice for over 25 years.
Aside from having her career; Ms. Carmen is a mother of two (Edgard and Carol Ann) and has four grandchildren whom she adores. In 2011 Ms. Carmen decided to move to New Orleans to be with her daughter. Life was great being a grandmother as she spent her days tending to her grandchildren and supplementing daily activities in between. Some of her interests include walking outdoors, swimming, and dancing in Zumba classes. She also enjoys dining out as she loves the different cuisines that New Orleans has to offer. We all love how young she is at heart!
Being a dental professional Ms. Carmen has always enjoyed working with patients and helping her community. This void created an opportunity for her to get back into the dental industry. In May of 2022, she joined the New Orleans Smiles family as a clinical assistant and was given the chance to exercise her (very experienced) dental knowledge. She always expresses the gratitude of being happy to work in our environment doing what she loves most! Not only does Ms. Carmen work hard in educating our patients on the importance of oral health but she is also educating herself with all of the advanced technologies we have to offer.
---
Caleb
Scheduling Coordinator
Often describing himself as a "daydreamer", Caleb's mind would wander due to his strong interest in creative writing. As the only child raised by his grandparents, Caleb utilizes his imagination regularly. This led him to many adventures with Batman and saving the world with the Power Rangers. Not only was fantasizing about his exhibition keeping him entertained as a young child; Caleb's would document his imaginative excursion on paper. This was his way of exercising his skills to follow in his grandmother
footsteps of becoming an English teacher. He plans on completing his degree in secondary education with a minor in creative writing at the University of New Orleans.
Until he is able to achieve his long-term goal of becoming an educator, Caleb is currently working as our Scheduling Coordinator. Starting off his career in customer service (Target and Sam's Club) made Caleb feel like he wanted to do more than sales assistance. This is why Caleb is a great fit for our practice as his role incorporates his interpersonal skills along with maintaining an efficient schedule for both doctors and patients. As a second-generation Honduran, Caleb is able to speak Spanish but not as fluently as he would like. As he works on developing himself to expand his vocabulary, he is still capable of helping his *gente *Latinos.
Aside from work, Caleb is a huge movie fanatic. Not only does he make time for new releases, he also has an extensive collection of older movies. Caleb is also a proud dog dad to his Chiweenie (Chihuahua and Dachshund mix) named Simba whom he considers to be his best friend. He truly enjoys his work and life balance as it shows in his daily smiles.
---
Crystal
Clinical Assistant
Crystal has been interested in dentistry, specifically dental hygiene, for as long as she can remember. Before graduating from Loyola University New Orleans in 2022, she enrolled in the Accelerated Dental Assisting Academy. She also worked in the hospitality industry as a server for the past five years while in school. Working in this environment has helped her develop and enhance qualities she will need in her future career. Crystal would describe herself as a caring, reliable, and committed person. She also thought it would be an excellent opportunity to get a head start in the dental field as a clinical assistant before beginning the dental hygiene program at LSU. Crystal's future goal is to help patients lead healthier lives by educating them on the importance of oral health. Crystal is also bilingual as her family is from Mexico and Cuba. Working in a clinic with many Spanish-speaking patients has motivated her to become more fluent. Aside from work, Crystal's biggest support system is her mother and fiancé. Her hobbies include traveling, weightlifting, running, and dancing. She is also a huge cat lover and has a furry friend named Kai.
---
Chrismelly
Clinical Assistant
Chrismelly, is originally from Santo Diomingo, Dominican Republic and grew up in Boca Chica, which is surrounded by the most beautiful beaches of the country. Since she was a little girl, was passionate about dancing, arts and helping her community. She participated in the "Caminante Project" which supports the efforts of preventing child abuse and exploitation.
She graduated in 2018 as a dentist from the Universidad Odontológica Dominicana. In May 2023, she decided to move to New Orleans with her husband, leaving her family and dental practice behind in search of better opportunities.
Without expecting it, God had wonderful plans for her and as soon as she moved to the city, she immediately joined the New Orleans Smiles Team as a clinical assistant.
She loves working in the field she is so passionate about, utilizing her knowledge and supporting all of our patients.
Her position at New Orleans Smiles Will help her in her next journey which will be going back to school to be license to work s a dentist and keep on creating beautiful smiles.
---
Daylié
Clinical Assistant
Daylié is originally from a small town called Central España, in Matanzas - Cuba.
Like any Cuban, she loves dancing, music, sharing with friends and having a great time. Since she was young, she dreamed becoming a dentist.
As working hard pays off, she graduated from dental school from the "Universidad de Ciencias Médicas de Matanzas", in 2020. Her graduation as a dentist came at a very difficult time due to the COVID Pandemia, but she strived and continue providing great care to her patients and not letting their smiles fade away even when there was a lot of reasons to be sad about.
She considers herself very active and enthusiastic, strong like the tooth enamel and sensible like the tooth nerve. Our patients health is her priority.
---
Seidy
Treatment Coordinator
Seidy, our youngster originally from the land of the Catracha – Honduras. She is the youngest daughter in her family, and moved to New Orleans to attend the last 2 years of high school to improve her English. She began as a patient at New Orleans Smiles and loved the place so much that she did not think twice about joining the Team, where she is now the Treatment Coordinator.
She enjoys very much her job, as she loves talking to people and connecting with them. She has a strong desire to get into college while working at New Orleans Smiles, which helped her discover her passion for dentistry. She is still undecided whether to study for Dental Hygiene or become a Dentist.
Her hobbies since she was a child were singing, dancing and learning to play the violin. She enjoys spending time with the people she loves, and is obsessed with coffee.
When she started her journey at our office, she was an insecure girl, but Doctor Velasco has been the best mentor and has inspired her to be able to be a strong woman, and be confident; she calls her "mini me".
---
Lourdes "Rosie"
Clinical Assistant
Lourdes prefers being referred to as "Rosie" and she is originally from Santo Domingo, Dominican Republic. From her country she loves the beaches, delicious food, natural beauty and the warm personality of the Dominicans.
Rosie is a faithful daughter of God, mother of 3, married, and has dog named: Coco.
Rosie has a degree in Dental Hygiene from the Instituto Técnico Superior Comunitario in 2017, were she graduated with Magna Cum Laude honors. Additional has training in dental assisting, specifically the areas of surgery and dental prosthesis.
She currently runs an NGO named: REGALO DE DIOS (Gift from God); which she created in 2020 during the pandemia. Its purpose is to provide school uniforms, food, diapers, clothing and others to the people in need in the neighborhood in which she grew up - Guaricanos, Villa Mella in Santo Domingo.
When Rosie is not pampering our patients, she teaches dance and praise to the girls of the congregation she is part of ENCIENDE UNA LUZ in Kenner, LA.
Rosie considers herself a dynamic, happy, positive and compassionate person; she loves to help and sympathizes with those suffering.
She has been part of the New Orleans Smiles Team since March 2023, and is currently the dental hygiene assistant. She is looking forward to meet you and help make your visit to our office a memorable one!